PONTIAC Builds Excitement!

I bought this car new in 1978 - 45 years later it still has original paint and interior, and still puts a big grin on my face when I drive it!
I ordered this car new on February 9, 1978 from Russell Pontiac in Orillia Ontario. The build sheet, which I found in the springs of the back seat cushion, shows a scheduled build date of 03-29-78.
This is the first car where I went gung-ho and ordered everything I thought I could want. The car was ordered with the following options:
| | |
| --- | --- |
| | A31 - Power Windows |
| | C60 - Air Conditioning |
| | R19 - Rear Window Defroster |
| | A01 - Tinted Glass |
| | Y92 - Lamp Group |
| | B37 - Floor Mats |
| | B84 - Side Moldings |
| | A90 - Remote Deck Release |
| | UN2 - AM/FM 8 Track |
| | N33 - Tilt Wheel |
| | Y90 - Custom Trim |
| | C04 - Delay Wipers |
| | K30 - Cruise Control |
| | CC1 - Roof Hatches |
| | WS6 - Rally Handling |
| | V02 - Super Cooling |
| | MX1 - Automatic Transmission |
| | W72 - 400 4bbl 220 HP |

The "Build Sheet" - for those who like to decipher codes
The Price was $10,094.20. The car was delivered April 16/78

This is how it looked in 1978.
This car was specifically ordered to emulate as closely as possible my 1972 455HO Trans Am that was stranded on the GM assembly line in Norwood Ohio by a 4 month strike - all of those TA's were eventually scrapped when the strike ended. That one was ordered in Lucerne blue with white interior, the 455 HO motor and TH400 automatic transmission. Here's a fairly close comparison of the one I never got and the one I ordered in 1978 and eventually modified to be like it - 20 years later.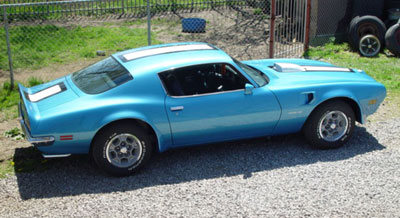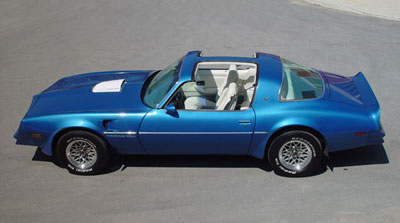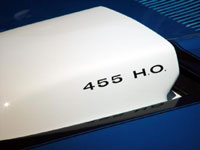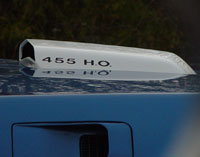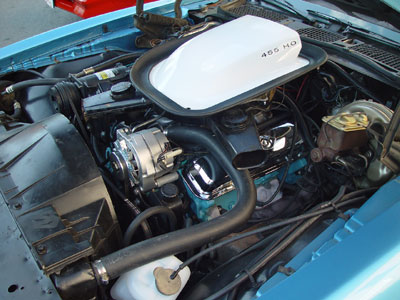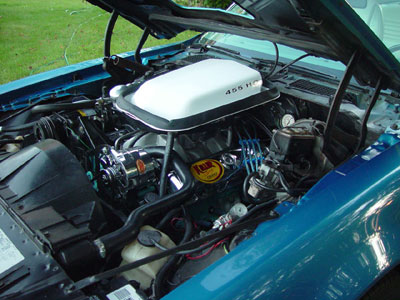 Here's the rest of the story on this special 'Bird

It's not the cream puff it appears to be and has seen lots of track time over the years.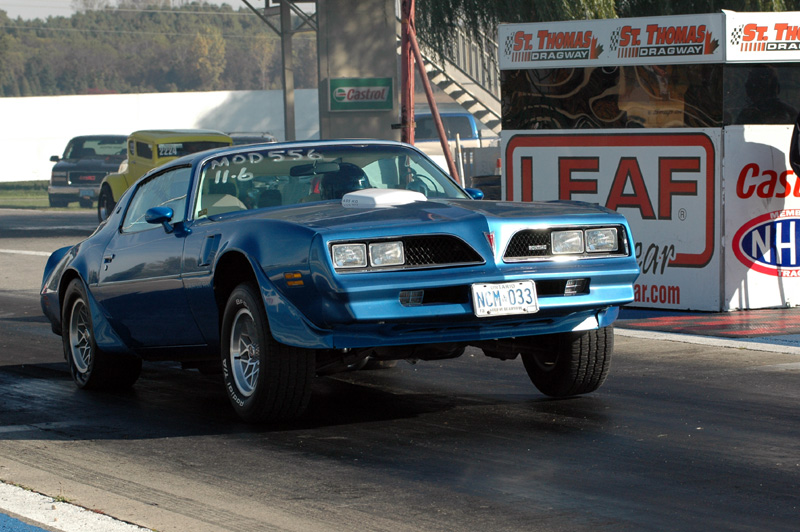 In 1996 I decided to upgrade the power train of this 78 Trans Am to make it into the car the General should have built in the first place, one that came with the excellent handling of the factory WS6 suspension package, all the options including the Fisher Body T-roofs and A/C, and a killer high output ram air motor like the ones Pontiac was famous for in the late 60's & early 70's. I removed the original engine and transmission and put them away for future re-installation, replacing them with a very rare 455 HO power train from a 1971 Trans Am - only it's been further upgraded adding a LOT more performance!

The 1971 455 HO (on the dyno at J&J Performance in Stoney Creek) looks a lot like the original motor - so it's a real sleeper! It has the original #197 round port heads milled .050" to give 9.5 compression, a Pontiac RA IV "041" cam with 308/320 duration, .470" lift and 115 lobe separation, an Edelbrock Performer RPM intake and Hooker Super Comp headers.
The 455 HO and TH-400 were built by Killer Racing in London Ontario (Larry Kilpatrick 519-451-0527) and he did a great job. For more on Killer Racing see the bottom of this page. This power train took the car to a best quarter mile ET of 12.03 at 110.8 mph.
In the spring of 2006 I replaced this first 455 HO motor with a second one spec'd by Dave Bisschop of SD Performance in Vancouver BC. By now there were other after market components available to increase the performance of these classic motors, high flowing aluminum cylinder heads and hydraulic roller camshafts being two of the biggest improvements.

This second 455 HO motor features the following:
| | |
| --- | --- |
| | block - 1971 455HO service replacement block, 4 bolt mains, align bored .034 over, sonic tested |
| | rods - Eagle 6.80" BBC forged H-beam |
| | crank - stock cross drilled, rod journals machined to accept Eagle BBC rods |
| | pistons - Ross XL421P custom dished to SD Performance specs |
| | rings - Speed Pro plasma-moly file fit |
| | cam - Comp Cams custom grind hydraulic roller camshaft of 236/245 duration, .570/.574 valve lift, 112 lobe separation |
| | deck height - 0.000" |
| | heads - Edelbrock 72cc ported by SD Performance |
| | rockers - Harlan Sharp 1.50 roller rockers |
| | lifters - Comp Cams roller lifters |
| | valves - Ferrea 2.19" intake valves, 1.77" exhaust valves |
| | springs - SP VS1606 FM 120 lbs at 1.620" |
| | intake - Port matched Edelbrock Performer RPM & Blocker High Velocity Induction System |
| | carb - 800 cfm Quadrajet 73 SD clone - built by Cliff Ruggles, Mt. Vernon OH |
| | oil pump - Mellings Ram Air |
| | compression - 10.25 to 1 |
| | ignition - 78 HEI with Crane HI-6, rev limiter set at 6000, 14o initial, 18o mechanical by 2400, 14o vacuum |
| | exhaust - Hooker $uper Comp 2" to 3.5" collectors, 3" Dr Gas X pipe, Ultra-flo mufflers, 3" tailpipes. |
| | converter - Custom Continental from Cliff Ruggles - flashes to 4000 rpm |
| | rear end - reinforced GM 10 bolt, Eaton posi - 3.42 gears, Moser 30 spline axles |
| | estimated power output, 550 hp, 600+ lb/ft torque |
| | Desktop Dyno Estimate for this combination |
Best Track Time to Date with this motor - 11.28 at 118.6 MPH!
Some engine build up pictures, Larry Kilpatrick did the machining and assembly:

Larry Kilpatrick, engine builder and drag racer,

The two 71 455HO motors freshly built by Larry, one almost stock, one not so stock :)
The full details of the newest motor are available at Mystery Motor Revival
Installed in the car - it still has the factory cruise control connected!! The aluminum fender braces and BHVIS air filter base are from Blockers Performance, the base allows use of the factory shaker with the Edelbrock Performer RPM intake - http://www.blockersperformance.com

Headers are Hooker $uper Comp ceramic coated with 2" primaries and 3.5" collectors. Exhaust cross over is a Dr. Gas 3" http://www.drgas.com . This picture was taken 7 years after installation, the ceramic coated headers are holding up well.

Mufflers are 3" Walker Dynomax Ultra-Flo #17221, installed by Steve Bowen at Carline Muffler in Alliston On. (705) 435- 4377.
The rear end is still the factory 10 bolt, but it's been beefed up with 3 additional plug welds on each axle tube plus the tubes are welded around their circumference. It has survived close to 2000 passes at various drag strips in Canada and the USA. The centre section has a new Precision Gear 3.42 gear set and an Eaton posi unit with Moser 30 spline axles.
A fuel system upgrade was made to 1/2" lines, a Mallory 140 pump and RobbMC 1/2" sending unit, installation info is here

The car launches hard at the drag strip, yet it still has the complete factory WS6 suspension which was designed for superior road handling. The only modification is 4 Koni shocks and one extra full length leaf on each side in the rear suspension.
2011
I retired the car from track use and made some changes to return it to looking more like it did when new. The Edelbrock Performer RPM manifold was replaced by a highly modified Pontiac aluminum intake - click on the photo to see the modifications.
This allows the use of the factory air cleaner and shaker assembly
In June of 2016 I replaced the front springs with a set from Pro-Touring and it finally has the correct stance.

Some action pictures from the track days!

Kil-Kare Dragway Ohio - 2002 Trans Am Nationals (I like the colours of all the cars!)

Norwalk Raceway Ohio - 2003 Pontiac Nationals - Leaving Hard!

National F-body Event at Indy - June 2004. The car took second in the Real Street Quick 8 competition.

Trans Am Nationals in Dayton Ohio, August 2004, the car took second overall in drag racing.

National F-body Event at Memphis Motorsport Park - August 2005, (Picture courtesy of Chris Ritter of the Arkansas Pontiac Association).

Norwalk Raceway Park - August 2005 Pontiac Nationals

National F-body Event - Indianapolis Raceway Park May 2006. http://www.fbody-event.org/ The car won the race tire class and then the run off between the class winners (against last years winner Joe Macaluso in his 69 Camaro), best Classic Car reaction time and 1st in the car show for 2nd Gen F-bodies - a pretty successful weekend over all! (Picture courtesy of Nikki Bettiker)


Norwalk Raceway Park - August 2006 Pontiac Nationals. (Pictures courtesy of Nikki Bettiker and P-Daddy)




October 9, 2006 NHRA National Dragster Challenge - St Thomas Dragway Ontario. The TA went 8 rounds of eliminations to be runner up in the Modified class. (Burnout pics courtesy of J.Gordon, start line pic by CMSports)
NFME 2008 - Memphis TN - fun on the autocross course - it ran 11.377 at 118.21 mph the same day on the drag strip. (all photos courtesy of John Coffin)
See event information below

One of the better F-body events that I used to attend on a regular basis:


November 2003 - High Performance Pontiac
In the November 2003 issue of High Performance Pontiac this car was featured with a 5 page write up. Full article is on line at:
http://www.hotrod.com/articles/hppp-0311-1978-pontiac-trans-am/
and also reproduced below.

A word about our Sponsor!

Fred's Tire Service in Orangeville Ontario has been sponsoring me in my drag racing efforts for many years. Owner Fred Brundle and Manager David Denning provide me with excellent prices and service for race and regular tires on my car, trailer and truck. It's great to be dealing with true car enthusiasts! For more info please see http://www.fredstire.com

A little more info on my engine builder....

It's tough to find someone to build a good high performance Pontiac motor in Canada, most of the Ponchos sold here came with Chevy power trains. I contacted several performance shops but none left me with a comfortable feeling when it came to building a 455HO. Several folks at the Grand Bend Motorplex recommended Larry Kilpatrick to me, he races an alcohol and nitrous fueled dragster and he had just been nominated Sportsman of the Year.
I went to see Larry armed with 2 Pete McCarthy books, the HO Blueprint & Assembly Manual and my wish list. Larry is a retired tool & die maker from Northern Telecom (now Nortel) and his years of precision work are evident in the quality of the engines and transmissions he builds. Although it started as a hobby, building hipo motors and transmissions has turned into a second career. What impressed me most was that he took the time to go over the Pontiac reference material I had brought along.

Larry and his daughter Karen Goldrick share driving duties in the dragster and compete in the Pro Comp class at several tracks.

Although Larry specializes in Chevy big blocks I highly recommend him for any high performance engine work.
Thirty Years of Great Times!
Hmmmm.... experienced in nitrous - I bet that would make the TA sing and dance!!
Back to Home Page