1966 Corvair Corsa - Turbocharged 4 Speed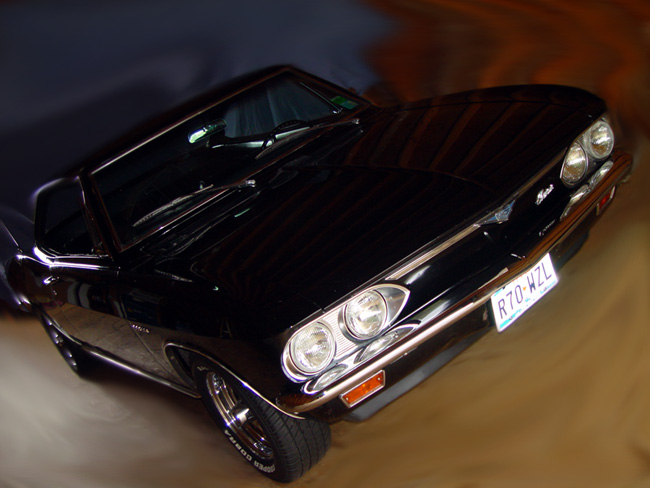 It seems that for over 40 years I have been fascinated by the first car I ever owned - a 1965 Corvair Corsa. In 2002 I decided it was time to find a good one to restore. Maybe I'm trying to relive my youth, but I really think it's because this car turned me into a car nut and I never recovered from that affliction. What follows is the story of the car I bought, and my efforts at restoring it to the car I want it to be.
Here are some shortcuts - just in case you don't want to wade through the whole story!
The History The Purchase Restoration - (Body & Suspension) - (Drive Train) - (Re-assembly)
To Just Skip to the End Result - Click Here!!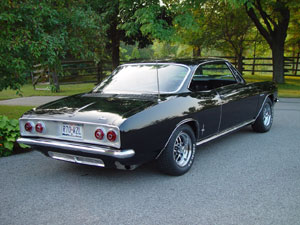 Come for a ride in mine Mr. Nader :)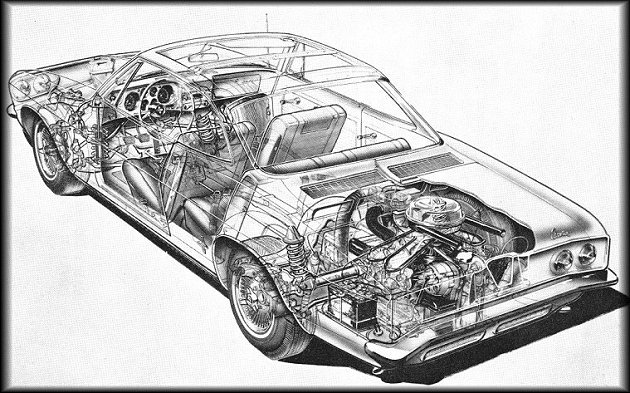 My first car .... (sigh) .... was a 65 Corvair Corsa with the 4 carb 140 HP engine and a 4 speed transmission. With an air cooled pancake or boxer style 6 cylinder motor in the rear this was a very unusual car design for a North American manufacturer, and it probably established me as a certified car nut right from the start.
I don't have any pictures of my car, but it was just like this one, only burgundy with a white interior. This car is Norm Wittes and you can see more of it at http://www.wittelaw.com/personal/vairgallery/

The motor was identical to this one too. I really liked that car and knew that I would have to get one again some day.

In December of 2002 Gary Aube sent me a link to a 66 Corvair Corsa that was for sale in Texas, this was the ad:
CLASSIC FOR SALE
1966 Chevy Corvair/Corsa
2 door turbo charged coupe, one of 1,951 manufactured in 1966. 31,596 actual miles. Four speed Saginaw manual transmission. Black exterior, black interior. Overall very good condition. Has been in storage since 1981.
Alvin, TX -- USA
Unfortunately - by the time I saw the ad the car had been sold to a new owner in Tucson AZ. I was successful in tracking him down and as luck would have it, he would consider selling it. He had bought it thinking it would be a good low mileage car for his son to take to college. However, because it had not run for 22 years, he was having some problems with the motor and decided he would like something more reliable ........ and less "unique".

On February 10, 2003 I purchased this car from Fred Jones and his son - picture taken in Tucson after putting it on my trailer.

Before Fred bought the car it was last licensed for the road in 1981. Since then it had been part of a collection of 37 cars owned by a Mr. Gerald Smith in Marshall Texas. While working on the car I have found information that leads me to believe the original owner of the car lived in Timpson Texas, about 60 miles from Marshall (found a 1968 High School report card from Timpson High under the front carpet when refinishing the interior). From that I hope to track down the original owner and dealer that sold the car new.

I couldn't believe I was successful in buying such a low mileage car and had to keep checking the rear view mirror on the way home to make sure it was actually on my trailer.

On February 14th I made it back to the Canada/USA border, but the car was held up on the U.S. side for three days by red tape - the car wash had to wait.


The restoration has begun - the motor has suffered the most from sitting so long and has been completely rebuilt. This is what a Corvair power train looks like out of the car - minus carbs, exhaust and cooling shrouds. The bottom of the car and power train are covered in red clay.



Front & rear suspension before sand blasting

The rear suspension after sand blasting, everything that appears to be rust is actually red clay :)

The other suspension parts after sandblasting the clay off. All bushings have to be removed, even if they are still good, before going for powder coating.


Back from powder coating - looks too good to hide it under the car!

Powder coating was done by The Finishing Centre in Barrie Ontario. I highly recommend them, great quality, good price and it was done on time, just as they promised. If only the rest of the project went this smoothly!!

The interior, dash and instrument panel are in good condition, the carpet is pretty badly faded.


New carpet from Clark's Corvairs has now been installed - it fits great. Almost everything you get from Clark's seems to be of top notch quality OEM type quality. http://www.corvair.com

The paint on the car is still the original factory lacquer, and although it still has a great shine it has enough bumps and dings that I'm going to have to have the car repainted to make it look new again.


This is what the stock motor looks like in a turbocharged Corvair - rebuilding it is creating a bit of a dilemma - do you do it completely stock, or do you add some of the more recent technology used on turbo motors to make it a lot more efficient and powerful.
Once again a project seems to have turned into an episode of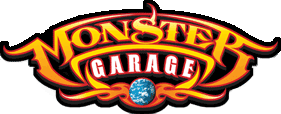 Seems I've eventually modified every car or motor I've ever owned, so why should this one be any different. Let's just skip the 38 years of tinkering that I would have spent on my original Corsa and take it to where it would probably be right now if I had kept it!
Already optioned with the top of the line 180 hp turbo motor this car was a great starting point for some major upgrades that include:
| | |
| --- | --- |
| | New forged +30 pistons and barrels |
| | Clarks deep oil pan |
| | Carburetor changed from 1 draw through to 2 pressurized blow through built by Seth Emmerson |
| | Turbo upgraded to larger Rajay E-spec with Crown scroll - ceramic coated |
| | Entire exhaust system ceramic coated to retain heat for the turbocharger |
| | Exhaust system incorporates a Turbonetics Delta wastegate to control boost |
| | GReddy PRofec Type-S electronic cockpit boost controller to adjust the waste gate |
| | Bosch boost pop off valve in the intake just before the carbs to relieve boost pressure when the throttles close |
| | Modified Saab inter-cooler - now modified to air to water heat exchange |
| | Crane XR700 electronic ignition |
| | From American Pi Inc. a SafeGuard knock sensor and ignition control unit made by J&S Electronics |
| | Carter high volume/high pressure electric fuel pump, all fuel lines upgraded |
| | CB Performance automatic adjusting fuel pressure regulator (keeps fuel pressure 5 psi above boost pressure) |
The Modifications To the Power Train

This photo has a summary of a lot of the parts that have been added or modified for this motor

Entire exhaust (including the turbo) is ceramic coated to increase exhaust flow, keep the heat in for the turbo and out of the engine bay, and it will look good for a long time too.

Modified Rajay turbo with a Crown scroll that picks up low speed performance, larger overall size increases top end performance

The stock turbo induction system had one draw through carb ahead of the Rajay turbo charger. The factory carb was purposely sized by GM to limit boost and prevent detonation which could destroy the motor. The current setup uses other methods to control detonation so a larger turbo, inter-cooler and two blow through carburetors are installed.

The modified Rochester HV carbs have the main jets increased in size and relocated to the sides of the fuel bowls, the float chamber vents are extended above the air horn about 3" and the throttle shafts are pressurized to prevent air and fuel being forced out under boost.

This picture of the air horn shows the extended bowl vents at the top plus the two smaller boost reference tubes leading outside to the rubber hoses that pressurize the throttle shafts

The underside of the carb top shows the bowl vent extensions, on the right side is the check ball style inlet that replaces the stock needle and seat setup.


The throttle shafts are pressurized by the boosted air coming in the top of the carb

The fuel system uses a boost compensating fuel pressure regulator from a Maserati Bi-Turbo motor as they were designed to supply two carbs on a turbocharged engine. Factory fuel lines were replaced and upgraded to larger ones, the factory mechanical fuel pump has been replaced by an electric at the front of the car.

A Turbonetics adjustable waste gate in the exhaust just before the turbo is used to control boost through the entire rpm range

GReddy cockpit boost controller, connected to the Turbonetics waste gate above it adjusts rate of boost and maximum boost level of the turbo system.


The stock GM points ignition system has been replaced by a Crane Fireball XR700 electronic system that feeds into a J&S Electronics Safeguard knock sensor and adjustable ignition timing controller.

It has a digital read out that displays the amount of knock retard (plus fuel mixture from an O2 sensor).

The finned tube at the top of the picture is an auxiliary oil cooler with a bypass thermostat to help with engine cooling.
All of the additional hardware and the controls and gauges to monitor them has meant some major changes to the stock factory wiring. I've installed a second factory wiring harness from front to back of the car (16 conductors) and had a custom gauge and control pod made by M.C. Lazer Werks in Barrie ON. They do nice "Werk"!
The air to water inter-cooler system took the most engineering - especially since this is an air cooled car!

This is the main part of the system, the inter-cooler originated in a Saab and is known for it's efficiency.
The other components are:

Reservoir tank - sourced from Bayside Auto - used in stock cars, it has a 4 psi rad cap to protect the system from thermal expansion


Inter-cooler pump - sourced from the supercharged Ford Lightning pickup truck

Heat exchanger - sourced from Bayside Auto it's the same as the engine oil cooler, only longer

The complete system in the car,
This will be a fun car to drive!!

Detailing the transaxle before putting it back in the car - from this angle I can see why these were popular motors for home built aircraft.
It's October 04 and finally things are coming together!

Time to jack up the car and slide the motor under




Amazingly all of the extra parts like turbo inter-cooler, engine oil cooler, oil thermostat and exhaust/waste gate fit in the engine compartment. Still a lot of plumbing and wiring to do.


Fast forward three more years fall of 2007 and I finally have it running.....Quite a change from when I got it!!

It's starting to look like a real car.

We haven't gone this far...... yet!
For pictures of it on the road click here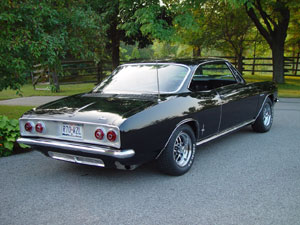 Help Along the Way

I was fortunate enough to make acquaintances with Dave Binnie of Carlisle Ontario, who has a car almost identical to mine. He has built several turbo motors with some of the mods mentioned above. You can learn more about his car at http://www.corvaircorsa.com/binnie01.html He's keeping me on the straight and narrow - or leading me far astray from a restoration point of view - depends on how you look at it.
A great site to learn more about these fabulous cars is Gary Aube's - which is located at: http://www.corvaircorsa.com/intro.html
Back to Home Page