2005 Sierra 2500 HD
Now this is a Truck!!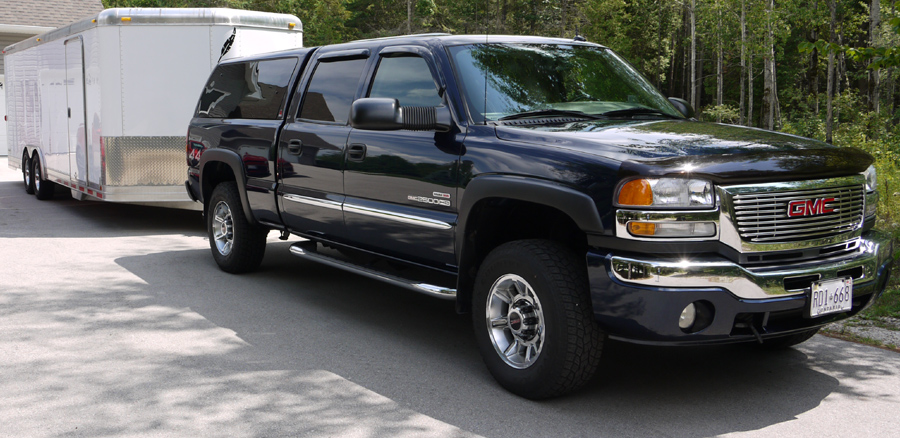 My 2002 Sierra just wasn't cutting it when it came to hauling around my TA & trailer - so I had think about up grading to something with more towing capacity.

In Aug/05 I was at a classic car show in Orillia Ontario that happened to take in the location of the Pontiac/GMC dealer where I had purchased my Trans Am new in 1978 - they had this one on the lot. It is equipped exactly the way I wanted it - including trailer towing package and electric extending mirrors. I've added the grill, headlights, step bars and ARE tonneau cover. The colour was exactly what I wanted too - every other one I looked at was pewter or black. It's a crew cab with the SLT trim package
Another bonus on the power train - it's equipped with the Duromax turbocharged & inter-cooled diesel and Allison 5 speed automatic, now that's HD! I've named him "Vinny" (short for Vin Diesel). The only things I didn't like about the truck was the wimpy factory wheels & tires, and the exhaust - they had to go! The wheel solution comes from GM - the Hummer H2 chrome ones, the exhaust is Magnaflow 4" duals.
It's main purpose is towing a 30' car trailer and various contents, 2021 and it's still like new.
And now for the biggest surprise of this whole truck trading experience ...... when I went to pick it up Brad McClocklin (my Sales Rep) had placed this framed picture of the dealership's 1978 sales record for my TA on the seat, I bought it at the same car dealership!