1968 Camaro Restoration Project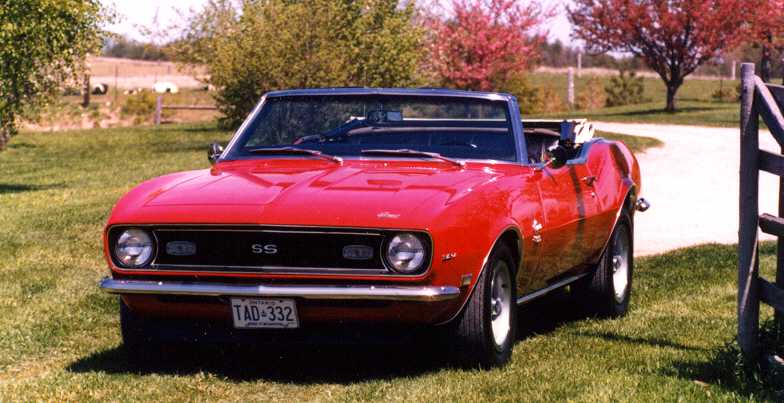 My 68 Camaro restoration project began in 1983. The original factory colour was Autumn Bronze, repainted an aqua green, later a dark green with the white "hockey stick" stripes. From the factory it was a 327/powerglide, I rebuilt it as a 327 with Z28 heads, GM 350 hp hydraulic cam and TH350 with a converter.

Being a Canadian car it got 2 new rear quarters, 2 new front fenders, a used rust free trunk lid and a passenger door. All chrome on the car was replaced with new. Guy Kerr of Kerr Auto Body in Orillia ON (705-325-7721) did a great job of restoring the body of this car.



The car was finished in Buccaneer Red - a 68 colour, 4 new GM rally wheels, trim rings and center caps were added.
In 1990 I dealt it at a Chevy dealership in New Liskeard Ontario - traded even for a new Silverado 4x4. After a few years I lost track of the 68 Camaro as the dealer is 5 hours north of where I live.

In November 2000 I saw this picture in an Old Autos newspaper story of a car show in northern Ontario - sure looked like mine!!
68 Camaro & 78 Trans Am - Together Again!
In August 2004 at a car show in Orillia Ontario the 68 Camaro re-surfaced and the two cars were united again!!





Ed Potvin from Sudbury Ontario - it's new owner

Story is the dealership sold it to a new owner in Ruoyn Quebec in 1993, he financed the car through GMAC, lost his job, the car was repossessed and sold in a car auction in Sudbury Ontario. Ed saw it on a car lot in Sudbury and scooped it for $9000 CDN. He had to repaint it as it was faded, no body work required, he added the bumperettes at that time.
YES - I wish I had kept it!